History of the RTS
---
The Rapid Transit Series (RTS) bus is a long-running series of transit buses originally manufactured by General Motors. General Motors, Truck and Bus Division first developed the RTS in the mid 1970's. The RTS was part of a government competition to develop a single specification for a semi-low floor bus product. General Motors modified the original lowered floor design to a standard height floor bus. The first sales of the RTS were in 1976, some of which continue to operate in revenue service today.

The RTS was GMC's entry into the Advanced Design Bus and is the descendant of GMC's entry in the U.S. Department of Transportation's Transbus project. The RTS is notable for its futuristic styling featuring automobile-like curved body and window panels. That design has become as classic though remains more contemporary as that of its predecessor, the GMC New Look which had a curved windshield, but flat side glass and body panels. GMC sold the RTS design and patent rights to Transportation Manufacturing Corporation (TMC) of Roswell, New Mexico, in May 1987 though the two companies did a joint order for the New York City Transit Authority to prepare TMC for the production. A plant was built solely for the manufacture of the RTS at the Roswell Industrial Air Center. Subsequently Dial sold all of their transportation manufacturing operations and in this process they sold MCI to DINA Corporation, Mexico. Dina decided to sell the RTS operations to Nova Bus Corporation in 1994 in the midst of an order for the Massachusetts Bay Transportation Authority. Nova operated the Roswell facility along with their current operations in St. Eustache, Montreal, Canada. Nova Bus operations in both Canada and Roswell became a joint venture of Volvo Truck and Bus (VTB) and Henlys in 1997 managing them through Prevost Car. Production under Nova Bus would continue until 2002 when Nova Bus left the U.S. market.

Recognizing the storied and rich tradition of this company, the principals of Millennium Transit acquired the existing physical and intellectual assets of Nova Bus in an Asset Purchase on December 15th, 2003. The leadership team at Millennium is convinced the RTS Legend provides the perfect platform for future innovation and enhancements to transit bus design.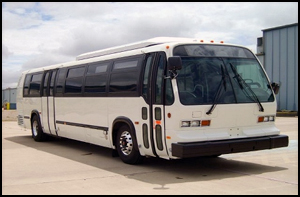 Media Center

October 12, 2011

New condensed specifications for the new RTS Legend and Express models now available. See product page for details.
---
September 21, 2011
Millennium Transit Services, LLC will showcase the newest generation of T-Drive RTS at APTA's EXPO 2011 coming up October 3-5, 2011 in New Orleans. The APTA EXPO is public transportation's premier showcase of technology, products and services.
Read More...
Find Us On Facebook
Click Here