Millennium Transit Services LLC is a bus manufacturer formed in 2003 to take over the former Nova Bus manufacturing plant in Roswell, New Mexico.

Recognizing the storied and rich tradition of this company, the principals of Millennium Transit acquired the existing physical and intellectual assets of Nova Bus in an Asset Purchase. The leadership team at Millennium is convinced the RTS Legend provides the perfect platform for future innovation and enhancements to transit bus design.

Continuing a tradition of 30+ years, Millennium produces the long lasting, severe-duty transit bus, The RTS. Now offering high- and low-floor variants, Millennium can build a bus fleet to suit your specific needs. Speak to one of our representatives today!

The Legend Continues...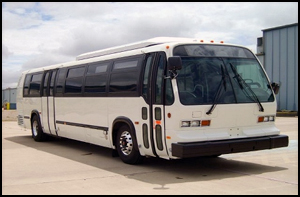 Media Center

October 12, 2011

New condensed specifications for the new RTS Legend and Express models now available. See product page for details.

Nemesis Link
---
September 21, 2011
Millennium Transit Services, LLC will showcase the newest generation of T-Drive RTS at APTA's EXPO 2011 coming up October 3-5, 2011 in New Orleans. The APTA EXPO is public transportation's premier showcase of technology, products and services.
Read More...
Find Us On Facebook
Click Here